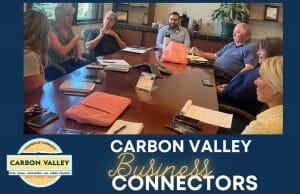 Carbon Valley Business Connectors
The Carbon Valley Business Connectors (CVBC) is a Carbon Valley Chamber of Commerce membership group. Any Chamber member in good standing has the opportunity to join the CVBC, regardless of industry. The CVBC is an exclusive networking group dedicated to small business in the Carbon Valley and the surrounding areas.
The CVBC mission is to help Carbon Valley area businesses grow through education, support, and relationships. It is well known by CVBC members that people do business with people that they know, like and trust so building relationships is the key to success for all small businesses.
Meetings are held the first and third Tuesdays of each month
12-1pm at Adams Bank & Trust, 8308 Colorado Blvd, Firestone
Structure of each meeting: 
First half: 2-minute timed introduction by each attendee, including their name, business, what they do, and brief thoughts on a pre-determined topic sent ahead of time (i.e., ideal client, Question of the Day, business development, pain points, goal setting). Monthly partnership assignments (first meeting of the month).
Second half: 15-minute presentation by one member, determined in advance, followed by 5 min Q&A.
MONTHLY PARTNERSHIP ASSIGNMENT
Once a month, members will be assigned a partner at random where they must set aside time to have a 1-on-1 meeting prior to the first meeting of the following month. This is an opportunity to connect with another member and get to know the other person and their business better.
We want to ensure that your referrals count. When you have a closed referral, please record the gross monetary value of the referral on an anonymous note and drop it in the referral box. The box is opened quarterly and the group's success is reported to the group and the CVCC Board.
The CVBC group is a part of the Carbon Valley Chamber of Commerce and has additional membership dues of $75 for twelve months due on January 31st. Membership is prorated for new members based on the month they joined. We encourage you to come to two meetings and check it out with no obligation.
Saul Nieto, snieto@abtbank.com, (303) 358-7589